THE ART OF JAY WARD PRODUCTIONS
For the first time ever, treasures from the Jay Ward archives and private collections around the country have been gathered and collected into one place to tell the story behind the funniest TV cartoons ever produced. With almost 1000 images, this book features rare photos and artwork from virtually every Jay Ward production, including some that were never aired. It's all here: pre-production concept sketches, pitch art, animation drawings, layouts, model sheets, storyboards, cels, backgrounds, publicity drawings, gag drawings and behind-the-scenes photos of the artists who created them.
more info: artofjayward.blogspot.com
MISTER MAGOO'S CHRISTMAS CAROL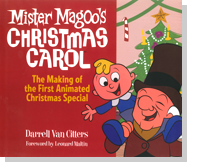 This meticulously researched volume uncovers the topsy-turvy behind-the-scenes story of this often overlooked TV classic. It's the untold story, filled with over 200 images of extremely rare production art detailing the entire animation process including excised material, as well as lost photos of song recording sessions and stories and photos of key personnel. Before Rudolph the Red Nosed Reindeer, before Charlie Brown's Christmas, and before How the Grinch Stole Christmas, there was Magoo, staring in a musical adaptation of the Charles Dickens Christmas Classic.
more info: mrmagooschristmascarol.blogspot.com